Sorry readers, I meant to post every day this week. Fortunately, Orthodox Christmas isn't until January 7th, so posts about holiday gifts are still timely! Which leads to the day three of what do get your favorite Serb: Slippers.
For most Americans, slippers are an…unusual gift. Something that a distant, elderly relative might give you. That they bought at a gas station. The night before Christmas.
But for most Serbians, they are an essential item. Serbians generally don't wear shoes inside the home. Walk around a Serbian home barefoot and risk being told you'll become infertile or have kidney problems. Walk around a Serbian house barefoot and sneeze, and expect to be yelled at by someone's grandmother and swaddled with rakija-soaked towels. Which doesn't sound so bad, really.
Slippers are easily acquired in and outside of Serbia. In Belgrade, hand-knit slippers are often found around the outdoor markets, at stalls in Kalemegdan, and in the passages below major intersections in town. In America, there are a couple of places to find great slippers I've listed below.
If you're feeling flush, Anthropologie has some cute options like these for $78: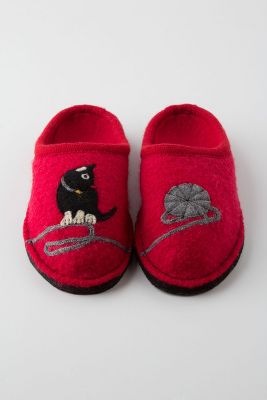 Not in the mood to spend that kind of dough on slippers? Try Ann Taylor Loft's ballet slipper versions, now on sale under $20:
Or you can try my favorite source for slippers now that I am a convert to the shoeless life: Target.
They have the best selection (for men AND women), and offer ones with rubber soles. Because while I don't want to catch an illness from bare feet, I also don't want to slip on tile and crack my head open. Even rakija won't cure a concussion. I think.
---
I was walking through Kalemegdan with our latest guest when she spotted these adorable hand-knit slippers. That I now own.
It's been wonderful to host people in Belgrade. (Six visits and counting!) Their perspectives give me a fresh take on the city, and I often see things I've missed over the past few months. Like the woman with handknit crafts at Kalemegdan Fortress. I've probably walked past her 50 times without seeing these. Now I'm planning to go back for a second pair.
It's common (and common courtesy) to remove your shoes when entering a Serbian home. Guests often receive slippers in exchange for their shoes to keep their feet clean and toasty. It's hard to imagine putting these on during our current heat wave, but I (and our future guests) will be glad to have them when 100-degree days are a distant memory.
---